5 May 2019
Hypoxico client profiled in the Wall Street Journal
PROFESSIONAL CYCLIST JUGGLES WORK, LIFE AND RIGOROUS TRAINING WITH HYPOXICO ALTITUDE SYSTEMS.
Many clients turn to Hypoxico for training advice to fit in with their busy schedules. Between your career obligations, family and everything else it often leaves little time for exercising. Sleeping or training at altitude can help you get more quality workouts with increased results without spending more time in the gym.
The Wall Street Journal profiled Hypoxico client Alex Richardson who is a professional cyclist in London. We know not everyone can expect the same results but being able to sleep in the tent at night helps your performance throughout the day.


ALTITUDE TRAINING IN LONDON REQUIRES EXTRA EFFORT
The article highlights how Live-High Train-Low (LHTL, sleeping at altitude), Live-Low Train High (LLTH, training at altitude), and the more recently used combination training (LHTL+H) can all been utilized to improve performance among runners, cyclists, and swimmers. Any athlete can expect altitude to help the body's innate ability to adapt to reduced amounts of ambient oxygen, producing favorable adaptations at the cellular level to improve endurance performance.


Read more about Altitude Training for Endurance Athletes and the medical studies associated with our equipment.

Depending on the demands of your life, there are many different ways to use Hypoxico for your training. We are happy to provide free consultations on the best plan to achieve your athletic goals. As far as strategy, there are three specific methodologies that we encourage. Keep in mind, these protocols can be mixed and matched to fit your lifestyle. Some clients will use just one while others will consistency implement all three like Mr. Richardson.
You do not have to be a professional athlete to get the benefits of altitude training. If you are passionate about fitness, looking for an edge as you get older, or looking to get back in better shape, we can help tailor an altitude solution to your goals.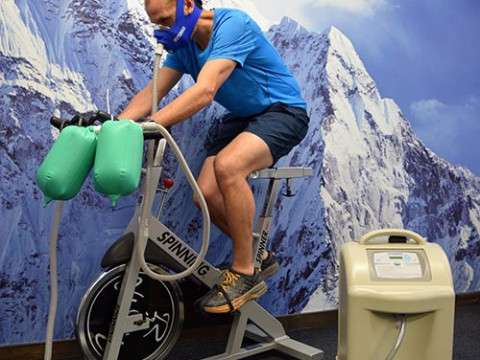 ---
Created By: Hypoxico Staff
---